Navigation
Top Impressionist Paintings
Edgar Degas
Edgar Degas (19 July 1834 – 27 September 1917) was born Hilaire-Germain-Edgar De Gas and was regarded as among the Parisian artists who founded impressionism, though he rejected the term and preferred to be called a realist.  He was famous for his printmaking and drawing, aside from sculpture and painting, all making a significant body of work that added weight to the impressionist movement of his time.Unlike many of his impressionist contemporaries in Paris, Degas started out as a realist with many of his paintings depicting historical subjects and won jury nods to exhibit in the Salon for 5 consecutive years starting in 1865 with is historical painting Scene of War in the Middle Ages. But the latter years saw him shift his attention towards the impressionist school with a preference to observed contemporary life, particularly with women at work and dance.  His Salon exhibit in 1868 defined him as a master in depicting ballet dancers in rehearsals.  As his subjects changed, so did his technique that progressively embraced the impressionist movement and influenced by spontaneity of photographic works.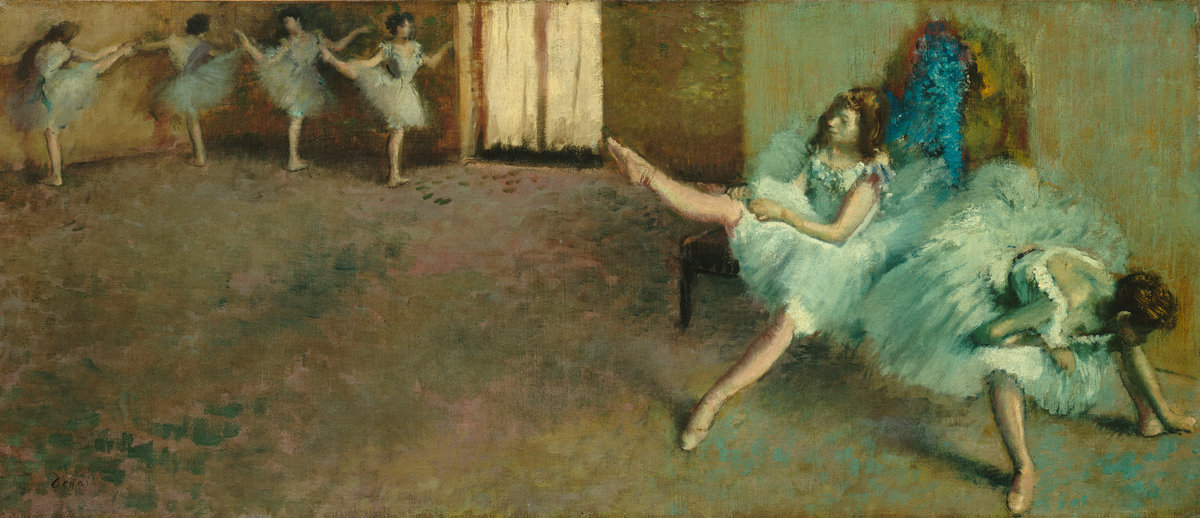 Click Image for Larger View
Edgar Degas
Edgar Degas (1834-1917) was born to an affluent Parisian banking family and briefly studied law before turning to art. Although a founding member of the Impressionist group exhibitions, Degas never really thought of himself as an Impressionist. He had received academic art training. He worked more realistically than the other Impressionists for much of his career. His drawing skills, obvious in the clear, deliberate lines around his painting subjects, also set him apart from Monet, Renoir, Sisley, and many others. Unlike his fellow Impressionists, who were criticized for sloppy brushwork and lack of finish, Degas was sometimes questioned for the "low-life" subjects he painted obsessively: laundresses, dancers, and street women. In later life, the artist moved away from realism toward a looser style that would inspire a new generation of painters. This looser style was due, in part, to his failing eyesight.
Before the Ballet, 1890/1892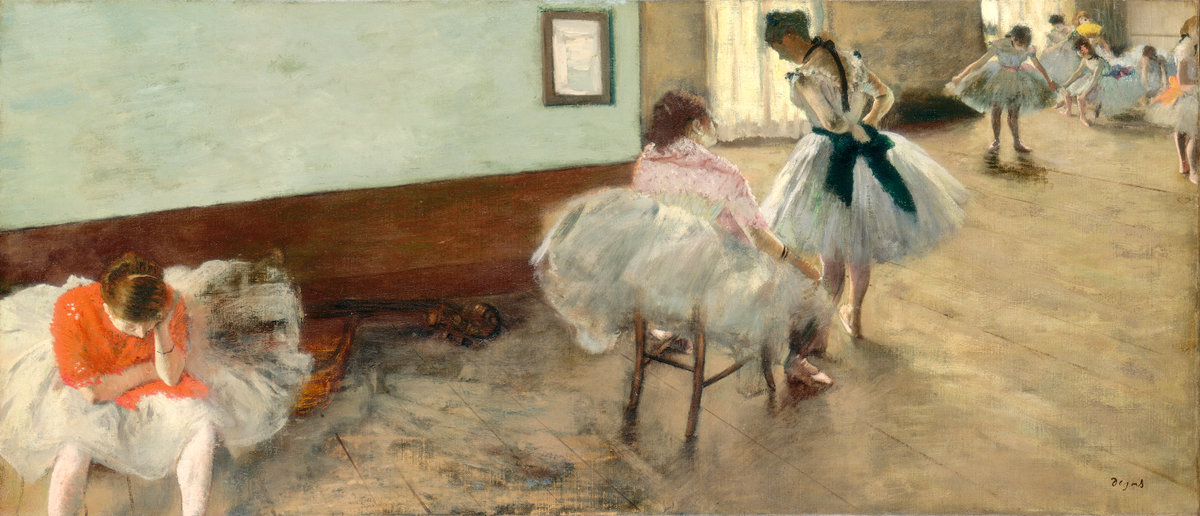 Click Image for Larger View
Edgar Degas
The Dance Lesson, 1879
Click Image for Larger View

Edgar Degas

(French, 1834 - 1917)

The Ballet Scene from Meyerbeer's Opera "Robert le Diable" , 1876

Click Image for Larger View

Edgar Degas

(French1834 - 1917)

Woman and Dog, ca. 187

Click Image for Larger View

Edgar Degas

(French, 1834 - 1917)

Before the Performance, ca. 1896 - 98

Click Image for Larger View

Edgar Degas

Leaving the Bath (La sortie du bain), c. 1879/1880

Click Image for Larger View

Edgar Degas

The Races, 1871/1872

Click Image for Larger View

Edgar Degas

Self Portrait (Edgar Degas, par lui-meme) Probably 1857